In Pearson Access, a project is the highest-level organization that includes its lower-level organizations and all test administrations within.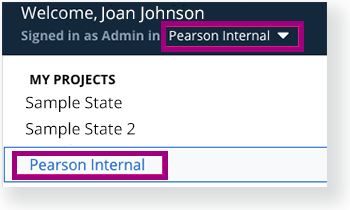 Data for projects with read-only permission imports into Pearson Access through a periodic data import feed. You can view this imported data within Pearson Access, after the automatic import. Read-only data can vary from project to project.
---
For instruction on viewing imported data related to districts, users, schools, classes, and/or students, click on each tab below.
Depending on your project, main menu links may vary.
Data Types, Descriptions, and Step-by-Step Instructions
LEA data includes a list of LEAs, LEA codes, and parent projects.
---
Step-by-Step
In the main menu, click (or tap) LEA(s).


The system displays LEAs.

Click an LEA name, or first, enter search criteria.

The system displays its details, shipping address, tabs for any available LEA Reports, District Reports, and School Reports, as well as an LEA List.